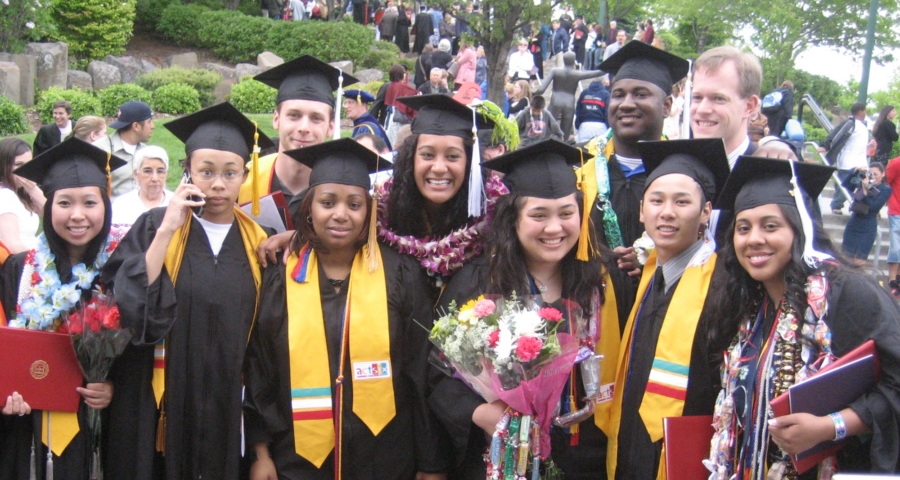 Degrees of Change founder Tim Herron grew up in Spokane, Washington, and moved to Tacoma in 1990 to attend the University of Puget Sound (UPS) as a math major. It was around the time of the Ash Street shootout in Tacoma's historically redlined Hilltop neighborhood. "So, when I show up in Tacoma," Herron said, "the first thing I hear is, whatever you do don't go to the Hilltop."
But at UPS, Herron got involved with a fellowship that connected students with urban ministries and historically Black churches doing amazing work. He was invited the summer after sophomore year to spend three weeks living in Eastside Tacoma. "It was a transformative experience for me, and I really fell in love with the families that I got to know," Herron said.
Through this experience, Herron discovered he wanted to work with underserved kids. He enrolled in UPS's teaching program and moved to the Hilltop neighborhood. Herron graduated in 1995 and got his first job as a math teacher at McIlvaigh Middle School. When Herron's wife Anna graduated from UPS, the couple bought a house across the street. "Those two blocks ended up being our home for 30 years," he said.
In the early years, the couple spent a lot of time getting to know their Hilltop neighbors.
"These were people whose experience was so different than mine, who faced really tough challenges from poverty and violence that impacted their families. But in the midst of that was this deep sense of this is our community, this is a place we're committed to, this is our place."
In the late nineties, the Herrons got connected with Northwest Leadership Foundation (NLF) which had just launched a program to fund urban church outreach workers across the Puget Sound. The Herrons wanted to turn their garage into a neighborhood learning center. Anna received NLF funding to start and run the center, which offered a computer lab and tutors to Hilltop kids. Tim would drop by after teaching at McIlvaigh.
"Our vision was that young people would have a place where they could come and find academic support and community in the neighborhood … lots of kids didn't have that opportunity. We've always supported the schools and the efforts of teachers. Our vision was just to be an extra resource right around the corner."
Meanwhile, Tim continued to teach and engage with families at McIlvaigh, which sat at the edge of the Salishan Housing Project, the largest public housing project west of the Mississippi. Salishan was built as federal government housing during World War II. After the war, it became affordable housing managed by Tacoma Housing Authority. By the nineties, it had become a rough place due to neglect.
"I spent a lot of time driving to that neighborhood. The challenges that those families and kids had to deal with were so much more than you could even begin to get at in a 55-minute math class. I wanted to engage at a deeper level with young people and their families but working with 150 kids a day it was just like, no way."
In 1999, Tim left McIlvaigh to teach at Lincoln High School. He approached Tacoma Public Schools (TPS) and NLF with a proposal to work halftime for each as math teacher and community-based college advisor. Back then, there was very little community-based college success programming in Tacoma public schools, Herron said. TPS and NLF agreed to dual fund his college program.
I wanted to engage at a deeper level with young people and their families.
At Lincoln, Herron started the district's first AP Statistics course to get more kids taking college level math. He used the remainder of his time for college access work, designing financial aid workshops and leading college tours.
Herron admits he came to college advising work pretty naive. He had brilliant students in his AP classes whom he helped encourage and mentor. Many received college offers and headed to campuses that fall. But by winter break, a parade of students began returning home to Tacoma.
"I started hearing 'yeah, I'm not going back,' and watching students play musical colleges," said Herron. "The theme that came up again and again was 'I don't feel like I fit in' or 'it doesn't feel like it's built for me.'" Seeing so many of his students leave college before earning their degrees was devastating.
In 2001, Herron traveled to New York for training in a new college readiness curriculum. Deborah Bial, president and founder of The Posse Foundation, had been hired to lead design. Herron was inspired by Bial's approach to college success for underserved New York students, sending kids to college together in "posses" so they have a community of support throughout their educational career.
We wove together a sense of community and team and family.
Posse Foundation was not interested in coming to Tacoma, so Herron worked with NLF to pitch a Posse-inspired college success program to his college connections. This program would include cohort-based learning, full-tuition scholarships, leadership development, and wraparound supports for underserved students from the Tacoma area.
Whitworth University saw the potential of Herron's vision and made a million-dollar commitment, becoming the first college partner for Herron's new program, Act Six.
Act Six officially launched in 2002 as an NLF initiative. Eleven students from Tacoma were chosen to attend Whitworth together as the first Act Six "cadre". The first pre-college training took place in the Herrons' garage learning center. Tim taught skills like time and money management, social change, and leadership development.
"We wove together a sense of community and team and family. Out of that, students were better prepared with practical skills to navigate college, they had support around them, and they were thinking big thoughts around how communities change and the challenges that confront our country."
Act Six was hugely successful. Four years after arriving on campus, all 11 of the first cadre walked across the stage to receive their diplomas. In subsequent years, additional college sites were added in Portland, Spokane, and the Yakima Valley.
In 2011, Herron established a new nonprofit organization called Degrees of Change to continue growing Act Six and innovate other college success and career readiness programming. When NLF closed in 2017, Degrees of Change took over managing the Act Six Tacoma-Seattle site. Act Six then expanded to the Midwest with sites in Minneapolis-St. Paul, Chicago, and Indianapolis.
A college degree, however, does not automatically lead to a meaningful career. The same challenges that confront underrepresented students in college continue in the workforce. "If we wanted students to come back and lead in their home communities, they needed to have something to come back to," said Herron.
To meet this need, Degrees of Change innovated Seed Careers programming which supports college students in achieving career readiness. Seed Internships was launched in 2018 for college students with Puget Sound roots. Seed Teachers was launched in 2023 for Tacoma students interested in careers as educators.
After over two decades of distinguished service as founder and CEO, Herron will step into a new role next month as chief innovation officer. He said the goal has always been to encourage young peoples' talent, skill, and love of community.
"We're going to continue to find ways to identify young people who love their communities, help them connect to careers of impact, and make a difference in the world."
---
Written by Sharon Ho Chang, Communications Director, Degrees of Change
Featured image: Tim Herron with Act Six Cadre 1 scholars at Whitworth graduation, May 2007.

Sign up for our newsletter to learn more, including updates and ways to get involved.