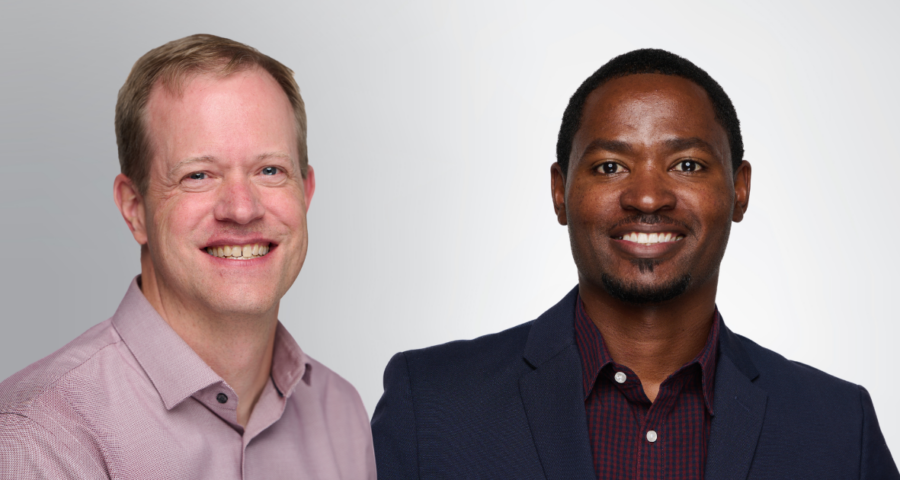 TACOMA, Wash. (May 9, 2023) – We are excited to announce that the Degrees of Change board of directors has appointed Marquise Dixon as its next chief executive officer. Founder and current CEO Tim Herron will transition to a new role as chief innovation officer.
Dixon, who has a nine-year history leading Degrees of Change programs and has served as Degrees of Change's chief program officer for the past 2.5 years, will assume the new role on July 1, 2023, working closely alongside Kelly Bay-Meyer, who will continue in an expanded role of chief operations officer.
"As a board, we are grateful for Tim's leadership in building Act Six and Degrees of Change and advancing our mission over the last two decades. Tim's work has impacted the lives of so many students and families, and we're excited to support him in this new phase of his career." said Arturo Lucatero, Degrees of Change board chair. "We are looking forward to seeing the organization continue to grow and thrive under Marquise's leadership in the years ahead."
This move is the culmination of several years of deliberate and thoughtful succession planning in close partnership between the Degrees of Change board and the executive team. Herron created the Act Six initiative in 2002 and has led Degrees of Change since its founding in 2011. In his new role as chief innovation officer, Herron will focus on designing and building new programs, strengthening our technology, and developing new capabilities to advance our mission.
"Marquise is a remarkable leader whose personal story, professional experience, and fundamental values deeply align with the mission and work of Degrees of Change," said Herron. "I could not be more confident in the future of Degrees of Change under his leadership." 
Dixon brings a wealth of experience in the nonprofit sector and youth development, as well as a passion for our mission. In 2014, he led the launch of the Act Six program at Urban Ventures in Minneapolis-St. Paul and oversaw its rapid expansion to become the largest site in the Act Six network. Read our January post about Marquise's journey.
Dixon went on to serve as vice president of youth and family services at Urban Ventures before moving his family to Tacoma in 2019 to become our first Act Six national director. He has deftly stewarded the Act Six network through the challenges of the pandemic and most recently has provided leadership for all our programs, including Seed Internships and newly launched Seed Teachers.
"Marquise is living out the Degrees of Change mission," said Bay-Meyer. "He is a leader with deep roots in our programs and communities, who has the values, experience, and vision to move our mission forward. I am excited and confident about Marquise's new role as CEO and his ability to steward and grow the impact of Degrees of Change."
"I am honored and excited to serve as the chief executive officer of Degrees of Change," said Dixon. "I am deeply committed to our mission, and I look forward to working alongside our amazing staff, community partners, and generous donors to continue to push our mission forward. Together, we can empower young, emerging leaders to be the new faces of leadership our communities are in need of."
About Degrees of Change 
Degrees of Change prepares diverse, homegrown leaders to succeed in college and career in order to build more vibrant and equitable communities. We do this through three innovative programs: Act Six, Seed Internships, and Seed Teachers. We partner with community organizations, high schools, colleges, and employers; working together to provide cohort-based leadership training, college success support, and career development programming to underrepresented students and graduates who desire to lead and serve their home communities. We also utilize research-based programming, cutting-edge evaluation tools, and innovative operational systems and technical assistance to support all aspects of our integrated programs. Based in Tacoma, Degrees of Change is a national organization that serves students across the Pacific Northwest and Midwest. Of the students we serve: 90% are students of color, 70% are first-generation college students, and 80% are from low-income families. We love our communities and want to see them thrive in all their diversity.
---
 Featured images: (left) Tim Herron and (right) Marquise Dixon (Photos by Ike Haynes)
Sign up for our newsletter to learn more, including updates and ways to get involved.