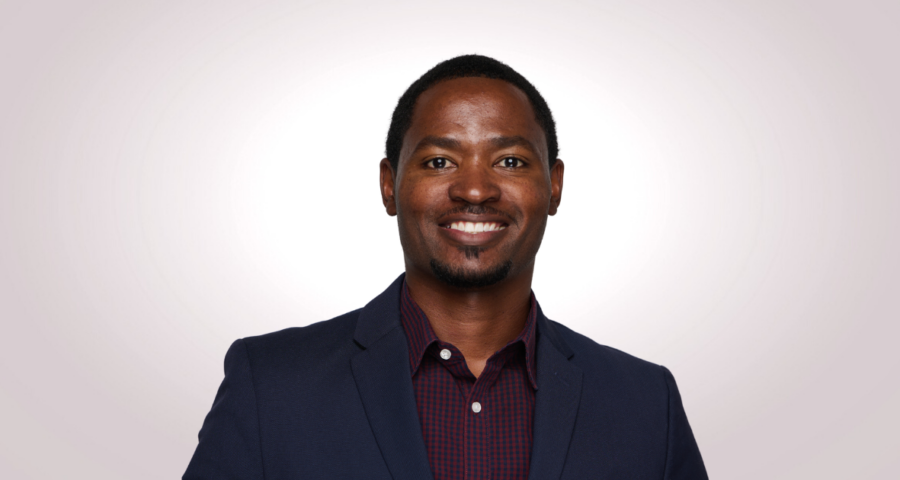 Act Six was founded two decades ago. But it was eight years ago that it expanded to the Midwest and became a national program thanks to the leadership of an extraordinary person – Marquise Dixon, CPO and Act Six national director.
"I try to represent Black excellence," Marquise said, "because I know that the next person that replaces me, I want them to look like me … I want to pave the way for others to be able to lead and take it to the next level." 
Marquise is a self-described southern boy. He was born in Topeka, Kansas, but moved a lot growing up with his single mother who was in the service. The family of two lived in Kansas, Missouri, Oklahoma, Louisiana, Texas, and then Georgia, where Marquise spent most of his formative years. 
In high school, Marquise applied to Baylor University, Wheaton College, and Crown College. He was accepted at all three schools and chose to attend Crown, a small, private Christian college in St. Bonifacius. "I just wanted to go there so I could play football," said Marquise. "So, I packed up my little 2002 Chevy Cavalier and drove up to Minnesota." 
Marquise earned his B.A. in history and ended up staying on at Crown College to earn his M.A. in organizational leadership. After graduating, Marquise was unsure what he wanted to do next. His roommate had just started doing youth work at an organization called Urban Ventures and invited Marquise to one of their program nights. 
"Hearing the stories, I realized I had so much more in common with these young people than I ever could have imagined," Marquise said. Like many of the underappreciated inner city students, Marquise had also grown up experiencing hardships like evictions, living paycheck to paycheck, a broken home, and a drug-addicted parent who could not be part of his early life. "So, January 23, 2012 was my first day at Urban Ventures." 
Marquise started as a youth outreach specialist, working partially with Urban Ventures' program students and partially with students who were just coming out of juvenile detention center and on probation. "I could sit down with a young man of color, and he could say, 'You know what it feels like to experience…?' And I could say, yes, I do actually."
Marquise thought he would stay a year at Urban Ventures and then decide where to go next. Instead, he found himself deeply moved by the work. "I ended up being very, very humbled. My first few years there I learned that the last thing the students needed was someone just to jump in for a year, then jump out of their lives again."
The students ended up teaching Marquise so much about himself and what it takes to become a leader. "I was working with youth who had experienced a lot of trauma, and I didn't realize my own trauma," he said. "I had a father who was not in the picture, and there's a lot of trauma in that." 
It led Marquise to understand the tremendous importance of positive relationships in a young person's life, and how the lack of such relationships makes it so much harder to succeed. Indeed, research shows relationship-rich education is key to college student success, especially for underserved students who face systemic inequities and barriers to achieving their educational goals.  
The problem was, once students graduated from high school, they aged out of Urban Ventures programming. Marquise wanted to keep students connected with post-secondary opportunities. He was just starting to create a plan for Urban Ventures when he was approached with the chance to lead a program called Act Six. 
"I was like, oh my gosh, this is the business plan I was developing … It had the leadership development component, the training of students, also had the financial relief for them with scholarships, and it was all for local youth. So, I was chosen to lead the initiative, and became the Act Six Twin Cities program director in 2014."
I want to pave the way for others to be able to lead and take it to the next level. 
Act Six provided an opportunity for Urban Ventures to go into parts of the city where they were not known. Marquise built relationships and networked in South Minneapolis, a historically Black community that has shifted over time and now has growing Latinx and East African populations. He also recruited in nearby St. Paul.  
Out of the gate, Act Six Twin Cities had three college partners offering full-tuition scholarships to scholars: Augsburg University, Bethel University, and University of Northwestern – St. Paul. The first year, Marquise and his team selected 27 Act Six scholars to attend these schools. The following year Act Six Twin Cities added a fourth college partner, Northcentral University. 
"I knew Act Six was going to be different because of the reaction from the community," Marquise said. By the second year, over 300 people attended a community celebration to recognize the next class of Act Six Twin Cities selected scholars. "The community showed up and showed out," said Marquise. "It was amazing." 
In 2019, Marquise moved his family to Washington State to become the Act Six national director at Degrees of Change. Today, Act Six Twin Cities, still run by our community partner Urban Ventures, remains the largest site with 200 scholars across six different colleges. 
When asked what leadership looks like, Marquise said, "I think that's a question that everyone has to ask themself. What does leadership look like for me? Reflect on that and think about your gifts, your passions, and figure out ways for you to lead that utilize your strengths."
Marquise has been writing regularly in a guided healing journal for Black men to be more intentional about self-care. "It's a journal specifically geared toward Black men owning our story. Reflecting on our identity and understanding our emotions." Recently, the journal prompted Marquise to consider what sadness meant to him and, conversely, what he was grateful for.
"I just wrote down Breonna Taylor, George Floyd, Ahmaud Arbery to talk about what made me sad," Marquise said. Urban Ventures is located only a mile from 39th and Chicago, where George Floyd was murdered. Marquise and his students were frequently in that area. As for Ahmaud Arbery and Breonna Taylor, one was from Georgia and the other served community, like Marquise. 
The loss of these three Black lives (and so many more) has constantly made Marquise reflect on what he is thankful for. "I've never had a boss that looked like me, I've never had a Black boss … It makes me extremely grateful for those men and women who look like me that have been mentors." Marquise has also recently reconciled with his father who he says is now "a great grandfather" to Marquise's three children. 
"I think it's having those people, those relationships, where people can speak truth into your life. To identify those leadership capabilities in you and be like, hey look, you're a leader," Marquise said. "That's the only reason why I'm at where I'm at. Because I had amazing leaders identify something in me, say 'you can do this,' and then encourage me along the way."
---
Written by Sharon Ho Chang, Communications Director, Degrees of Change
Marquise Dixon, Chief Program Officer, provides primary leadership for the Act Six national network and Seed Internships network, ensuring that Degrees of Change programs hold true to their mission and maintain exceptional outcomes while continuing to expand.
Featured image: Marquise Dixon (Photo by Ike Haynes)