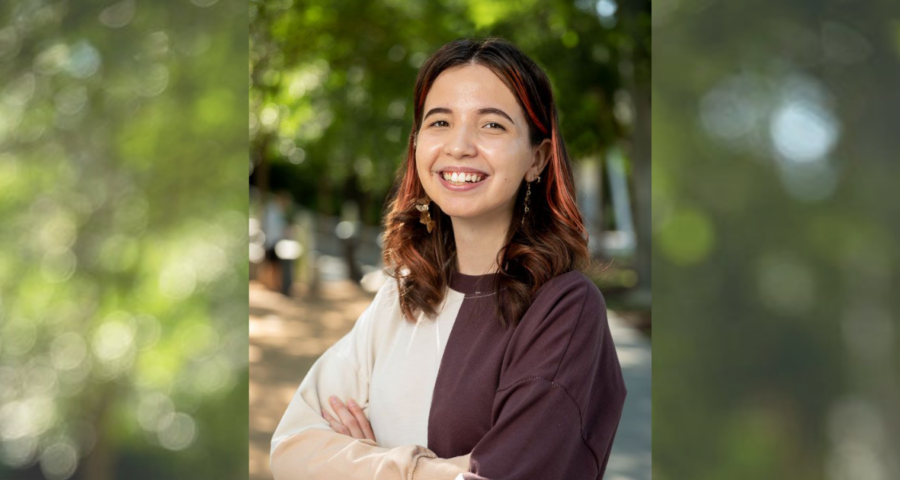 by Megan Quiñones
My name is Megan Quiñones, and I am honored to have been a part of the first cohort of Seed interns in 2019. I identify as White and Puerto Rican, or Boricua, or Caribbean. I grew up in a blended household and my identity was something I struggled with as a child and teen. Quite honestly, it is still something I struggle with as an adult. Growing up mixed in a "bicultural" home, I often felt like I was being pulled between two different worlds. I have found comfort in connecting with other people from mixed-race backgrounds who understand that I do not have to choose a single identity; that identities can be nuanced; and that I feel most empowered when I refuse to exist as a monolith.
For me, Hispanic Heritage Month is a time to uplift the stories and power of Hispanic/Latino/Latine communities. I also believe Hispanic Heritage Month is a time for reflection. I reflect on the sacrifices my family made and how these sacrifices positioned me to be a rising young professional. When my grandparents moved from Puerto Rico, they did so for opportunity, for a better life, like so many do. Even with the privilege of citizenship, they struggled due to language and educational barriers, poverty, and racism. My dad was raised in the Bronx, New York City, where this oppression continued, just in a different way. As someone who grew up in a low-income household, there was a lack of security for me too, but again in a different way.
That's the thing about oppression. It never fully goes away, just transforms. There were times where my family was unhoused and staying in motels, many times where we were food insecure, and it was hard to remain hopeful. But my family always made it seem like there was better out there for me – and there was.
While my grandparents were not alive to see me graduate high school, one of the first things my dad said to me outside of the Tacoma Dome on graduation night was, "You just broke a barrier in our family." That moment, those words, remain with me each day and motivated me to get me through college. Where I am today would not have been possible if it were not for organizations and programs such as Palmer Scholars and Seed Internships believing in me, but it especially would not have been possible if it were not for the sacrifices my grandparents made.
When I think of everything I have accomplished, I feel a sense of empowerment and pride. I also find so much joy in supporting my younger brothers as they navigate their way through middle school, high school, and now college. I also feel humbled knowing that I now have the privilege and power to lean into discomfort as appropriate, but to also leave things that do not feel right for me. This was not a privilege for those who came before me and is something I am incredibly grateful for.
I work in North Carolina as the program officer for grantmaking programs at the Community Foundation of Greater Greensboro (CFGG). In this role, I complete grantmaking with a special focus on health and wellness. I manage the CFGG's Teen Grantmaking Council to advance youth philanthropy in Greater Greensboro. Another piece of my role is providing staff support for the grants committee, external equity committee, and Weill Fund advisory committee, while supporting the vice president of operations and equity with our internal equity committee. Last, I act as the CFGG Liaison for the North Carolina Collaborative for Strong Latinx Communities.
I aspire to be someone who uncovers, unsettles, and uplifts. Accountability (but really truth) is something I try to keep at the core of the work I do. I think having uncomfortable and unsettling conversations is essential to any path towards transformational growth.
I also recognize the significance of power in just about everything. For so long growing up, and even in college, I felt powerless. As I continue to grow into my voice, my career, my power, I find it is so imperative that I always couple the privilege my education carries with my lived experience. I aspire to use the power I do have to elevate and uplift others in a way that centers belonging and justice.
To that end, I feel I must mention the cruel irony of this year's Hispanic Heritage Month coinciding with hurricane season. We saw Puerto Rico suffer as Hurricane Fiona devastated the archipelago with power outages and flooding the same week as the 5-year anniversary of Hurricane Maria. In 2017, my family was just one of thousands who lost loved ones during Hurricane Maria, a deadly category 5 storm that ravaged the northeastern Caribbean. It is considered the worst natural disaster to have affected the region. Seeing the aftermath of Hurricane Fiona in the Caribbean, five years later, has been heavy on my heart. As a Puerto Rican in the diaspora, I am reminded how crucial it is to listen to the people doing grassroots work in communities, this Hispanic Heritage Month and always.*
I aspire to use the power I do have to elevate and uplift others in a way that centers belonging and justice.
The older I get, the more I realize the most inspirational people in my life have been teachers, community organizers, professors, and nonprofit employees who believed in the communities they worked in. I feel energized by folks who show up as their whole authentic, unapologetic, messy, selfless selves in their commitment to making an impact – however that may look for them.
For me, as a young bicultural professional today, I am truly enjoying my current role as program officer for grantmaking programs. I look forward to continuing to build relationships, gain experience, and learn from the community. If you asked where I see myself in five years, I honestly could not say and that's okay. Sometimes you plan and plan and plan, but then there's a global pandemic or other life-changing events, and you fall into a career you did not necessarily see yourself in, and it ends up being something you love.
Ideally, I will continue working in nonprofits with more equity-centered roles as I advance in my career. I have always wanted to make a difference. What means the most to me is supporting and uplifting marginalized communities so others will grow up in a more just and sustainable environment than I did. This is what I want to spend the rest of my life doing, however that may look for me.
---
*To support grassroots efforts in Puerto Rico, please consider making a monetary donation to the mutual support network Brigada Solidaria del Oeste via ATH movil: /brigadasolidaria (nonprofit) or PayPal: brigadasolidariaoeste@gmail.com.
Megan Quiñones grew up in the Tacoma/Lakewood area and graduated from Clover Park High School in 2016. She holds a degree in political science and sociology/cultural anthropology from Saint Martin's University and is a proud Palmer Scholar and Seed Intern alum. Megan currently lives in North Carolina where she works as the program officer for grantmaking programs at the Community Foundation of Greater Greensboro.
Featured image: Megan Quiñones professional headshot. (Photo courtesy of Megan Quiñones)