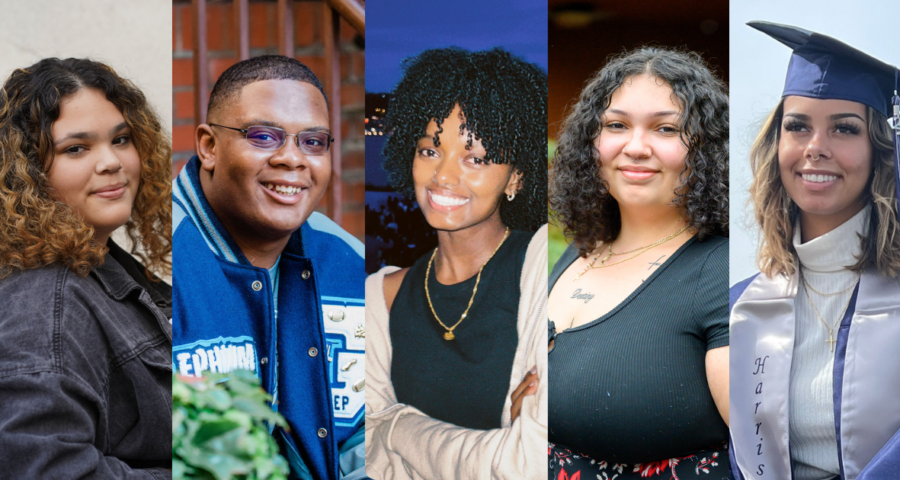 From Tacoma to Spokane to Kirkland, Washington, Act Six scholars tell us what Black History Month means to them and why celebrating the Black community is critical all year round.
---
Ephraim Watkins
Whitworth University, Act Six Cadre 20
Black History Month is a time of reverence, homage, and celebration. A reverence for the men and women who suffered for the color of their skin. An homage to the people who gave their voice and mind to create change. A celebration of how far we've come as a people and how much more we can still achieve. In America, Black history should not be delegated to just one month, but constantly around us. However, this month does spotlight Black people in a way that is different from the rest of the year. 
Black History Month allows the story of an oppressed people to be heard in its true capacity; applauding all African Americans, even if it is just for a moment. That is why I personally enjoy Black history month and give it so much attention. It is a time of year that allows African Americans to show the world we are beautiful, strong, intelligent, and resilient. We get to share the truth of our people and articulate our experience here in America. Through food, literature, music, fashion, and sports, Black America is one of the biggest contributors to American culture. Without us, this country's true story could not be told.
Black History Month is something we should take with us all year, allowing the celebration and homage to inspire us. African Americans have come so far, yet we still have a long road ahead. New generations have our own Black history to create. Therefore, Black history is a time to look back and say thank you, while still dreaming of a better tomorrow. As the great Harriet Tubman said, "Every great dream begins with a dreamer. Always remember you have within you the strength, the patience and the passion to reach for the stars to change the world." Let us celebrate the wise words of Mrs. Tubman and press toward a better future. Happy Black History Month my fellow African Americans.
---
Lereena Kerley
Pacific Lutheran University, Act Six Cadre 15
To me it's not just what Black History Month means, it's what being Black means. Growing up in a world of oppression, stereotypes, racism, and lack of support from all institutions, I learned how to navigate the many struggles that People of Color face, especially the Black community. Being Black is a blessing and it's beautiful. But it becomes a struggle when you live in a world where people say things like, "You look better with straight hair," or ask, "Can I touch your hair?" or even, "Is your hair even real?" Comments like this made me feel as if my Black hair and features weren't just as beautiful as people with straight or less textured hair. When people would stare at me when I was with my white mother, it made me feel as if my skin complexion and being colored was a problem. As a biracial woman, people try to categorize me and label my identity as just white or just Black. However, I am not one or the other. I am both, and that is what makes me myself.
Being Black is something I am proud of, and I hope everyone who identifies as Black can be proud of our culture, ancestors, people, and identities. Although to others it might seem like it's just February when we celebrate the Black community, Black History Month is more than just a month to African Americans. It's the recognition and acknowledgement that the Black community deserves after centuries of not being considered as equal as white people; an acknowledgement that it's a never-ending struggle for Black people as oppression and racism are still very real today. Black History Month was created to focus on the contributions of African Americans to the United States. It honors all Black people and important events from all periods of U.S. history. We celebrate to honor those who helped the movement for racial justice thrive and flourish so one day we all can live in a world of peace and love.
---
Stella Schena-Gordon
Pacific Lutheran University, Act Six Cadre 15
To me, Black History Month means exploring the culture and heritage of our African and African American ancestors here in the U.S. It means learning the truth about our country's history and the many entrepreneurs and changemakers that came out of the Black community despite facing hardships. This month is about embracing the good fight and acknowledging that being Black should not be seen as a sob story. Instead, it's a time to see Black people for who we really are – people striving towards equity and justice.
Despite the racist history Black people have faced in the U.S., it is important to acknowledge those who still persevered and shaped this country; the free thinkers, philosophers, and scientists of the Black community whom we are not taught about in school. This is true U.S. history, which needs to be taught and preserved; that of the Black community and the facts which surround us. Though our community has faced too many losses, it does not shape our community's future. At the same time, this does not mean we as a country can ignore the racism and prejudices which the Black community still faces today. This is why acknowledging and becoming aware about Black history here in the U.S. is vital to establishing an equitable future for all people in today's society. This is what Black History Month means to me.
---
Lidia Elala
Northwest University, Act Six Cadre 11
Black History Month for me means a time to recognize and honor the history, achievements, and contributions of African Americans throughout the United States. As a first-generation immigrant to the USA, I understand the importance of having a month to remember and celebrate those who have come before us and those in our current society. It is a reminder that despite the struggles African Americans have faced, they have managed to make a lasting impact on our world.
Black History Month is also a time to reflect on the progress African Americans have made and the work still left to be done for full equality and justice. It is an opportunity to learn and appreciate the many accomplishments of African Americans in various fields, such as politics, science, sports, and art. It is a time to reflect on the people and events that have helped shape African American history and culture, and to recognize the importance of the diverse voices that contribute to our society. Black History Month is a reminder to uphold the values of inclusion, respect, and understanding for all.
---
Jaylyn Kerley
Pacific Lutheran University, Act Six Cadre 14
Black History Month was always confusing for me. Growing up as a half Black, multiracial woman, it was difficult to align myself with Black History Month let alone the Black community as a whole. I have often been seen as too "light skinned" in the eyes of others to identify as Black. It felt like if I was seen as Black, it was only when it was convenient to other people. But to me, being Black isn't just a color, it's a culture. A culture that has been built on the aches and hardships of our African American ancestors here in America.
What does Black History Month mean to me? It's a time to celebrate not only the many different and very beautiful shades of Black men and women all around the country, but also to honor the accomplishments of our ancestors which make our futures possible. Without the fight my African American ancestors put into creating a country that allows all people to live together, I would not be here. And without the hours of protesting for school desegregation, I wouldn't be here today pursuing my psychology degree at a school that fits my academic needs even though it is known to be a predominantly white institution. I am a citizen in this country today because my African American ancestors tirelessly fought for this right and the color of my skin shouldn't matter.
---
Learn more about our Act Six leadership development and college scholarship program at actsix.org.
Subscribe to the Degrees of Change newsletter for updates, more stories about our program participants, and ways to get involved.