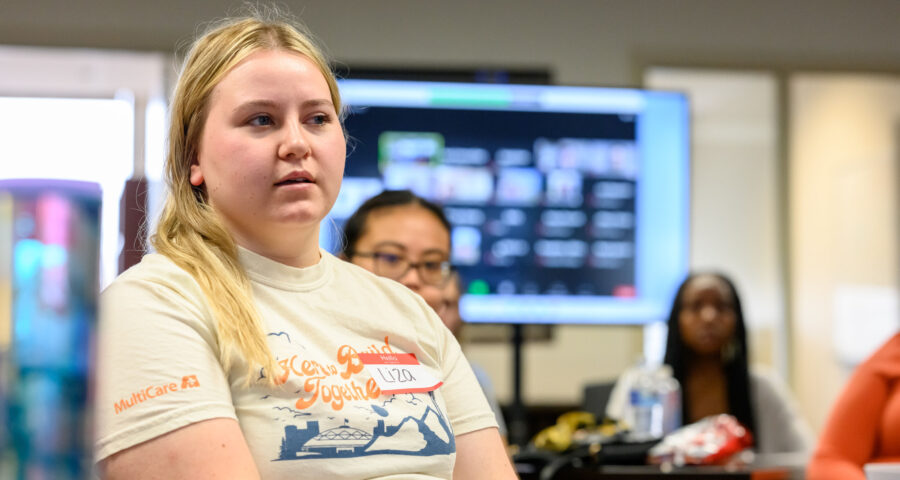 by Liza Vykhovanets
Life is a giant maze filled with many doors. These doors are always there, waiting for you to find them. Sometimes, you might not know what's on the other side and you're not sure whether to go through. But when you do, you open new opportunities and experiences that you would have been sorry to miss out on. I felt this way when I decided to apply to Seed Internships which landed me my first internship.
Looking back at my journey as a first-generation immigrant from Ukraine and first-generation college student in America, I was determined to get my degree, but I had to open the doors myself.
After immigrating to the U.S. as a baby, I grew up bouncing off the walls, an energetic and curious girl who loved to read and could never stop talking. I had potential and drive, but I struggled to find support for a long time. I have ADHD and in my early childhood up to my middle school years, I struggled with my mental health. 
However, a yearning for success persisted within me. Fueled by an adoration for learning, I turned challenges into stepping stones. When I began embracing each challenge with open arms, my journey began to shift and become less intimidating. I knew I wanted to build a legacy for my family and make my parents proud. So, I kept going towards higher education. After high school, I chose to attend community college to give myself time to explore and see what bachelor's degree I wanted to pursue.
But when I earned my Associates of Arts and decided to apply to University of Washington Tacoma (UWT), the pandemic had started. I ended up taking a gap year, giving me more time to really think about what I wanted to do and wait to apply to UWT when in-person classes were available. My excitement to earn my bachelor's degree grew when I found out there was an Innovation and Design minor at UW Tacoma. I was thrilled to combine humanities and social science into a career as a UX Designer.
I set a goal for myself

t

o get at least one internship offer

after my senior year.
When I finally transferred to UWT, I lived in an apartment with my partner and sister, working part-time to pay bills during my junior year and senior year. Most college students start interning their junior year. But because I was a transfer and busy working, I had no internships under my belt and lacked a lot of confidence.
I set a goal for myself to get at least one internship offer for the summer after my senior year. I wanted to get my foot in the door of a career related to my Communications major or Innovation and Design minor. 
I applied to design internships at various organizations and to a program called Seed Internships at Degrees of Change. Seed Internships matches students with potential internship employers in addition to offering weekly professional development throughout the summer. The program really stood out to me because it was cohort-based and open to all majors, meaning I'd get more support and opportunities to network with other students.
Seed Internships was my first acceptance email and a month after the group interview, I was matched with three different employers to interview for their internships! 
I was so worried that I wouldn't get an internship offer, but I got a huge confidence boost after putting in the hard work. I did research on my first employer match, JayRay Ads and PR. I recognized a lot of the branding and advertising work they have done in the Tacoma community and was excited to be able to contribute.
During my interview with JayRay, I told them I could apply my problem solving, research and writing skills developed from my college design projects to the internship. They ended up offering me a position as Marketing Intern. I felt confident accepting the internship offer because of my research, my positive experience interviewing with the owners and some advisors, and because I knew I could learn so much from their expertise.
At my JayRay internship this summer, I was always learning something new and exciting, which kept me motivated and eager to keep on going. I learned that there is always something different happening at agencies. With a smaller team, I got to work on a variety of projects due to the different clients we had. Some projects I was more comfortable and familiar with like researching online and creating social media posts. Other projects were completely new to me like creating a press release for a destination marketing organization. 
As I successfully completed more and more tasks, the JayRay team assigned me more complex ones. One of the biggest tasks I was assigned was to create an advertising plan for a client with a limited budget. I was given a list of publications and companies that I had to reach out to and gather media kits. My plan was approved by two advisors. Afterwards, an advisor and I worked on a presentation deck to present our strategy to the client.
I felt valued and supported by everyone at JayRay this summer. It made me realize how much I really enjoy working in smaller teams and in a field where everything is always changing. As an intern, I got to embrace leaning into the unknown, opening new doors, and discovering a new path.
Meanwhile, I never felt alone as an intern because everyone at Seed Internships was there for me and for each other. Each Friday, all Seed interns gathered at the Degrees of Change office for Seed Internships professional development sessions. Every session offered us something new. One week we learned about self-care and mental health. Other weeks we heard from inspiring speakers like Angela Jones, J.D, a director at the Bill and Melinda Gates Foundation.
With my experience at JayRay and Seed Internships, I now better understand what post-graduation careers are out there for me and know I can succeed at them. As I apply for full–time positions, I feel more confident because the JayRay team and Seed Internships continue to support me and push me towards my goal to use my creativity to positively impact my local communities. Whatever your destination is, Seed Internships is a door that will help get you there.
---
Liza Vykhovanets grew up in Milton and is an alum from the University of Washington Tacoma. She graduated in June 2023 with her Bachelor of Arts in Communication and a minor in Innovation and Design. She spends her free time hanging out in Tacoma, reading, and playing video games.
Featured image: Liza Vykhovanets at weekly professional development as part of the Seed Internships 2023 cohort. (Photo by Sharon Ho Chang)
Sign up for our newsletter to hear more student voices like this, updates about our programs, and ways to get involved.