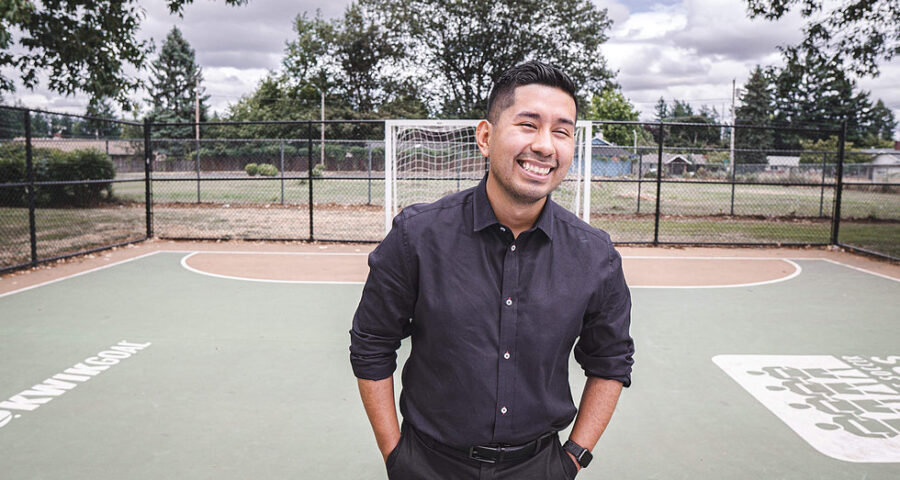 Ever since he can remember, Ricki Ruiz has loved soccer. Growing up in Gresham, Oregon, Ricki and his friends didn't have access to public soccer fields, but that didn't stop them from playing where ever they could. Sometimes even playing in parking lots or sneaking into private fields. Ricki has grown to connect this passion for sports to his love and commitment to his community, co-founding an organization that provides public access soccer resources to the youth of Gresham. Flash forward to today, he has furthered his commitment to his hometown by recently becoming State Representative for Oregon's 50th District, the district he grew up in.
While attending Reynolds High School, Ricki was called to his guidance counselor's office to learn about Act Six. With only three weeks left before the deadline, he was encouraged to apply. Although he was skeptical, his mentor through the TRIO program, Christina Gonzalez, inspired him to pursue the opportunity. Being the first to graduate from high school in his family, the opportunity to participate in Act Six was an exciting one. Ricki was selected to participate in Act Six beginning in the Fall of 2012 and attended two years at a community college before finishing his bachelors degree in social entrepreneurship at Warner Pacific University.
He names relationships and connections with his Act Six advisors as transformative. The training given through Act Six to scholars gave him the tools to navigate higher education, understand and challenge systemic racism within these structures, and lead on campus. During his third year of college, Ricki got a picture of what community change would look like for him through his love of sports. Partnering with another Act Six scholar, Yesenia Delgado, they built a set of public soccer fields called futsal courts in his hometown in 2015. Futsal is a fast-paced, smaller scale soccer game played across the world, and these courts would be the first built in the Pacific Northwest.
Ricki and Yesenia's project, now called the Rockwood Initiative, raised $120,000 through community support to fund this public space. Growing up without these amenities, without a space to come together around their passion for soccer, motivated the pair to create this positive space for young people in Rockwood. "That was the beginning of what I view has been my mission of continuing to create community change," Ricki says.
A fierce advocate for his community, Ricki has pursued local politics, becoming the youngest elected school board official in 2016 at 22 years old. As a school board member, he created equitable policy for the school district that almost failed him, remembering how he and his friends weren't invited into the College Center because of assumptions that they weren't "college ready". He ran to ensure that all students receive the support they deserve with a focus on helping more students graduate.
Ricki didn't stop there and recently won the election for State Representative of Oregon's District 50, making him the youngest and first Latinx district representative. "As a person of color, and as a first-generation college student, the amount of support I received from the Act Six program, the staff, the training tools, really prepared me not only to experience and to complete college, but just to be able to accomplish community projects I didn't even know I had in mind until I was part of the program," Ricki reflects. Today, we can see the ripple effect that Act Six scholars like Ricki have created, inspiring other young people to get involved in their communities and fostering a culture of community leadership.