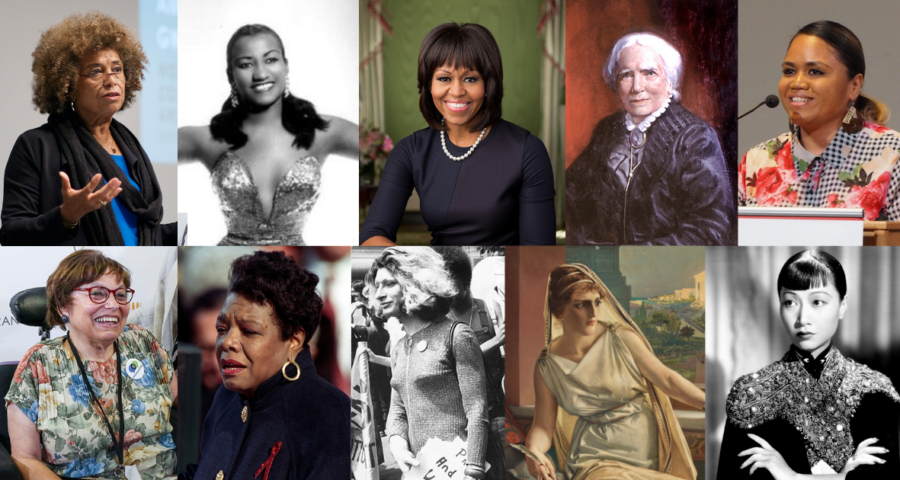 This Women's History Month, women-identified staff at Degrees of Change are thrilled to share a roundup of the women who inspire us most. Some are from times past, some are still with us, but all have made a profound impact on the U.S. and world.
---
Angela Davis
I have always been encouraged and inspired by activist Angela Davis. She is unwavering in her stance as an advocate for women's rights, civil rights, Black liberation, and equitable change. Angela Davis has committed herself to disrupting the comfortable in order to build up struggling, marginalized communities and move society toward justice!
– Alexis Nicholson, Act Six Director
---
Anna May Wong
Often considered the first Chinese American movie star in Hollywood, Anna May Wong was born and raised in Los Angeles. She started acting during the silent film era, eventually becoming a fashion icon and achieving international fame. Despite her successes, Anna May Wong struggled her entire career against being pigeonholed and typecast into stereotypical supporting roles as an Asian woman. But her talent, determination, and perseverance took her to great heights despite the racism of the time, and she helped pave the way for many Asian and Asian American actors who have since followed.
– Sharon Ho Chang, Director of Communications
---
Celia Cruz
Known as the Queen of Salsa! Celia Cruz not only helped popularize salsa music in the United States, but she also helped Afro-Latinos embrace their heritage. With her charismatic character and glamorous style on stage, she encouraged and changed many people's lives. Fun fact, Celia Cruz will be on the U.S. quarter in the beginning of 2024.
– Gaby Morales, Act Six and Seed Program Manager
---
Elizabeth Blackwell
Elizabeth Blackwell was the first woman in the United States to earn a medical degree, and an advocate for women doctors. She established the New York Infirmary for Indigent Women and Children, where women and children could receive free medical care in a hospital staffed entirely by women doctors. The hospital also provided medical training for women.  
– Mindy Nash, Senior Manager of Finance
---
Hypatia of Alexandria
Hypatia of Alexandria was a Neoplatonist female philosopher and astronomer in Roman Egypt, and perhaps even the leading astronomer. She was loved widely by pagans and Christians both for her welcoming disposition and razor intellect. She advised Roman prefects and held significant sway over the Roman political elite—especially for a woman of the time. She is an excellent example of tolerance, wisdom, and virtue. She was stoned to death by a mob at approximately 60 years old.
– Lynnie McIlvain, Grants Manager
---
Judith "Judy" Heumann
Judy Heumann was a long-time disability rights advocate who paved the way for a more accessible world. She played a critical role in the development of federal legislation protecting the rights of disabled people such as the Rehabilitation Act, Section 504, Individuals with Disabilities Education Act, and the American with Disabilities Act. My daughter is thriving in part because of disability right activists like Judy who built and continue to build more equitable and inclusive systems and communities.
– Naticcia McNamara, Director of Program Operations
---
Maya Angelou
One of my favorite women in history is the late Maya Angelou, world-famous author, poet, and civil rights activist. She was also a dancer, singer, and scholar. I admire her wisdom, grace, fearless presence, pioneering use of words and writing style. She was a champion of equity and emanated radiant "beauty" (not as defined by mainstream culture). In 2011, President Barack Obama awarded her the highest civilian honor in the United States, the Presidential Medal of Freedom.
– Carrie Streepy, Executive Assistant
---
Michelle Obama
One of my favorite women in history is Michelle Obama, attorney, author, and former first lady of the United States from 2009 to 2017. She is a graduate of Princeton University and Harvard Law School and the author of multiple books. Her uncompromising values, wisdom, hard work, authenticity, vulnerability, positivity, warmth, sense of humor, and dedicated service continue to inspire me and give me hope for positive change in our country.
– Kelly Bay-Meyer, Chief Operations Officer
---
Sylvia Rivera
Sylvia Rivera was a trailblazer for gay and transgender rights, beginning with the New York Stonewall Riots of 1969. As a young trans Latina at just 19, she felt unheard and unrepresented in mainstream gay organizations. She co-founded an organization called STAR with African American trans activist Marsha P. Johnson to support trans people in New York City. Sylvia went on to found STAR House which helped LGBTQIA+ homeless with a focus on People of Color by providing food, clothing, shelter and more. Sylvia was an inspiring grassroots organizer who saw a need in her community and jumped in to fulfill it.
– Nicole Stephens, Director of Philanthropy
---
Terisa Siagatonu
An award-winning poet, educator, and activist, Terisa Siagatonu is a pillar of the Pasifika community. Through her poetry, Terisa sheds light on the uncomfortable conversations that Pasifika people tend to shy away from or sweep under the rug. She encourages us to create space to express, question, challenge, and heal with one another; to unpack deep generational wounds and trauma embedded in our culture that are longing for closure. Terisa's creativity, resilience, and heart-work for the Pasifika community is why I will always root for her and love hard on all my Pasifika peeps navigating through and unlearning their traumas.
– June Siaosi, Program Operations Manager