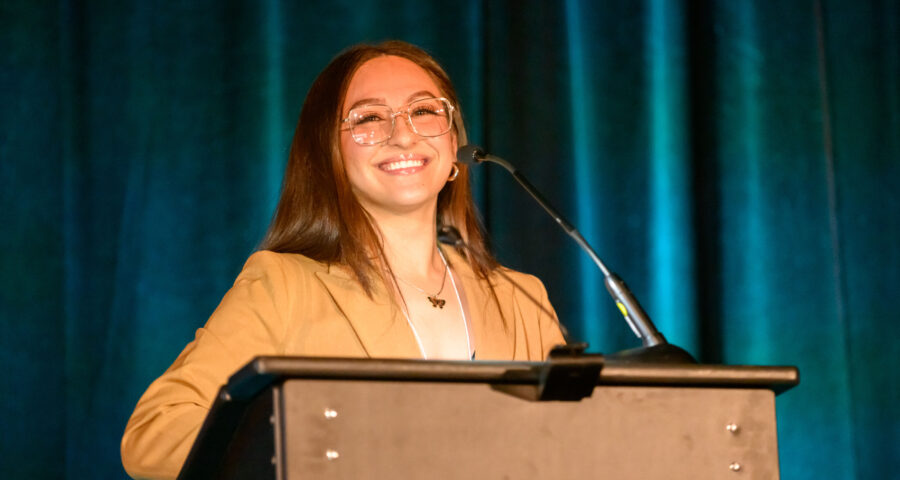 by Janeth Beltrán Apodaca
From Aug. 4-7, Act Six hosted its biannual Convention in the brand-new Marriott Tacoma Downtown hotel for the first time in three years. 
My name is Janeth, and as a rising Act Six senior at Whitworth University who had never been able to attend an in-person Convention due to COVID-19, I felt happy to know I would finally have the chance to get this experience prior to graduation. Though, I'd be lying if I didn't mention senioritis kept creeping in every once in a while, making me sometimes question the necessity of attendance. 
Then, a few weeks before this year's Convention, I received an email from Marquise Dixon, Act Six National Director. He invited me to be one of the current scholar speakers. Are you kidding me?! I was thrilled to hear this because public speaking is a career of interest to me. So, it felt really nice that Act Six, the program that gave me the opportunity to attend college, was now also giving me a platform to practice one of my career interests.
I shared my dream to be a leader of honesty and transformation.
As Convention started on Thursday, August 4, we were welcomed with a beautiful 20th Anniversary Celebration and Fundraiser Banquet held in the ballroom of the hotel. Everybody dressed in nice business attire and the night was full of wonderful speakers. This is where a fellow scholar, Shay'den Howell, and I had the opportunity to speak about what sort of leaders we aspire to be in the future. Touching on my immigration experience, I shared my dream to be a leader of honesty and transformation. Specifically, I plan to do this by becoming a fair and non-partisan journalist who focuses on real-life experiences and community transformation.  
For the rest of the weekend, Act Six scholars participated in group activities like opening plenaries; workshops facilitated by Act Six graduates and affiliates; and a graduate school and career fair where students connected with different organizations.
One night, dinner was brought to us by local food trucks at Tollefson Plaza which quickly turned into a backyard party with dancing and music by our amazing DJ Crisostomo. Students from all different backgrounds bonded as we danced to "Caballo Dorado" and taught each other different dance moves to our cultural music. This was my second favorite night because it reminded me how warm it feels to be safe and accepted in your community.   
My favorite night, however, was without hesitation the night of Café Six – the most fire talent show I have ever experienced.  
In a convention full of scholars, it wasn't surprising to me that every single one of us has leadership and academic capabilities. However, it wasn't until Café Six I realized the number of additional talents held by the students around me. The night consisted of booming singing voices, culturally rich dances, and spoken word poetry touching on a variety of different topics.
Some of my favorite performances included a fun creative song performed by Lance and Celine about our time at Convention and my friend Anisia singing "Love" by Keyshia Cole. It was my first time seeing Anisia on stage and she literally had the entire room singing along with her. Which I loved to see! 
I performed a spoken word piece that I wrote during the 2016 presidential election titled "Somewhere in Space," which talks about both the beauty and challenges of being an immigrant in this country. After the piece, a number of students walked up to me sharing specific parts they had connected with. Which made me happy because I realized how many of us dealt with issues concerning immigration and how, even despite our cultural differences, we were able to create a unique bond moving forward. 
There are many things I will be taking from my Convention experience as a whole, but something that stood out to me the most was shared in a creative expression workshop led by the first Act Six Emmy Nominee, Christian Paige. He reminded us scholars to "start believing the audience instead of [your] self-doubt."
This quote stayed with me all throughout Convention because hearing this from a graduate of our program made me realize that all of us current scholars can follow the steps of other graduates. For example, Dr. Augustine Ajougu, the first Act Six Medical Doctor; Lauren Taylor, the first Act Six Public School Principal; or Ricki Ruiz, the first Act Six Elected Official. These Act Six "firsts" helped us remember that even when feelings of self-doubt come up in our journeys, we should always remember the high extent of our potential.   
Act Six scholars go through a rigorous three-phase selection process, six months of intensive training with our cadres, maintain a competitive GPA, and manage to stand out as leaders in our Predominantly White Institutions (PWI).
From the moment I was chosen as an Act Six scholar, I knew I had a lot of responsibility. As scholars, we are expected to be the constant voice of change in our community which can become tiring and even overwhelming. However, meeting other scholars and graduates from across the country at my first Act Six Convention reinforced to me the uniqueness of this program and the lifelong impact it leaves on its scholars.  
Before Convention, many of us were completely unfamiliar with one another. Yet by the end of Convention, everybody seemed a lot more comfortable and familiar with each other's stories. Not only did we create new bonds, we also strengthened our current relationships. 
Act Six Convention celebrated the potential of current scholars and the legacy of graduates. Still, we were also reminded of the importance of taking care of ourselves first. Because, as shared by Senior Director, DJ Crisostomo during a college discussion workshop, being a leader does not always mean having the most titles. Sometimes, it means accepting a mental health day off and realizing the importance of paying attention to yourself first to better serve those around you.  
Written by your aspiring first Act Six journalist, Janeth Beltrán Apodaca.
---
Janeth Beltrán Apodaca is going into the senior year of her Bachelor's degree in Communications at Whitworth University. Through her education, she hopes to become a journalist and public speaker to create change by rebuilding trust between people and the media. Currently, she is a news staff reporter at the Whitworthian and president of The Heritage of Latin Americans club at her university. She has a cat named Mía and enjoys attending Mexican events such as bailes and jaripeos!
Featured image: Janeth Beltrán Apodaca speaking at the Act Six 20th Anniversary Celebration and Fundraiser Banquet on Thursday, August 4, 2022. (Photo by Sharon Ho Chang)