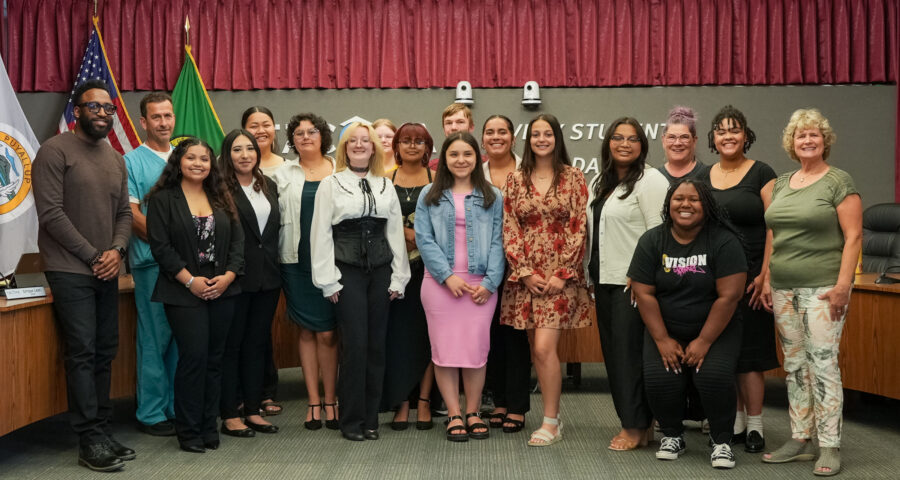 After months of planning and recruiting, we are thrilled to share an official list of the very first Seed Teachers cohort. Seed Teachers works for a more equitable public education system with teachers who reflect the students they serve. Our first cohort of sixteen amazing scholars was recognized at the Tacoma Public School board meeting on June 8:
Joselyn Alaniz
Mount Tahoma High School
Taliyah Cariaga-Kaliga
Lincoln High School
Jazmin De Santiago
Mount Tahoma High School
Coleman Fleetwood
Lincoln High School
Myia Fulsom
Science and Math Institute (SAMI)
Elizabeth Garcia-Tepale
Lincoln High School
Lillian Garibay
Lincoln High School
Kailah Im
Lincoln High School
Karina Lopez-Pacheco
Lincoln High School
Emma Nance
Tacoma Online
Rebeca Prieto
Lincoln High School
Amy Stephens
School of Industrial Engineering, Design and Art (IDEA)
Naomi Tauiliili
Mount Tahoma High School
Fatima Yanez Prieto
Lincoln High School
Katia Yeager
Science and Math Institute (SAMI)
Crystal Zacapu
Lincoln High School
With the selection of these 16 promising scholars, we have officially launched our new Seed Teachers program along with our partners Tacoma Public Schools and Pacific Lutheran University. We are excited for the impact that these young leaders will have as homegrown, community-driven educators. The first cohort will begin their pre-college training at the end of the month under the mentorship of Seed Teachers Director Tara Yi.
Learn more at Seed Teachers.
---
Featured image: First Seed Teachers cohort recognized at the Tacoma Public Schools board meeting on June 8. (Photo courtesy of Tacoma Public Schools)