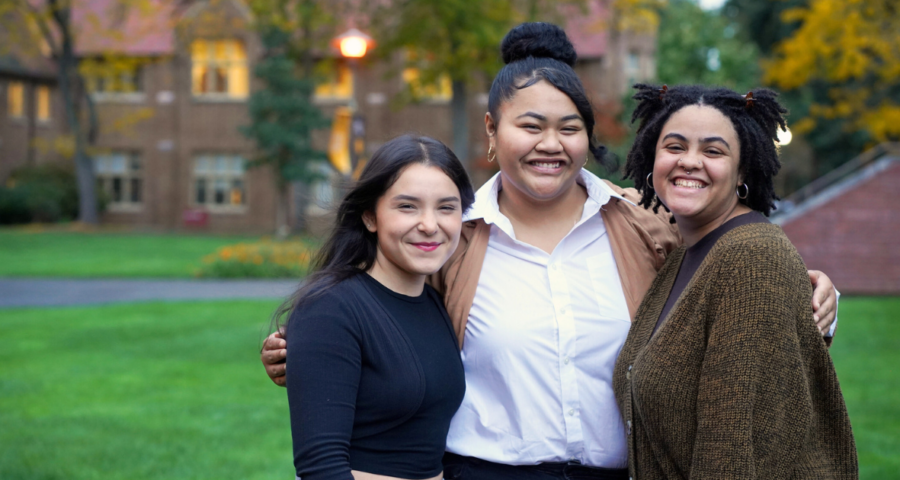 TACOMA, Wash. (November 21, 2023) – Franklin Pierce School District (FPS) announces it is joining the innovative Seed Teachers program, a transformative initiative developed by Degrees of Change in partnership with Pacific Lutheran University (PLU).
"The Seed Teachers program is a perfect fit for our district. It creates continuity for students to pursue a degree so that they can come back and have an impact on students in their home community. This journey will empower graduates with scholarships, mentorship, and hands-on work experience within our schools, shaping them into future leaders in education," said Franklin Pierce Schools Superintendent, Lance Goodpaster. 
Launched in spring 2023, the Seed Teachers program aims to build a more equitable school system by helping diverse homegrown leaders become high-impact educators who reflect the students they serve.
Initially involving Tacoma Public Schools (TPS), Degrees of Change, and PLU, the partnership has expanded to include Franklin Pierce School District. This expansion reinforces a commitment to investing in local, diverse talent, and cultivating educators with deep connections to their communities.
Tacoma Public Schools serves 65 % students of color, and neighboring Franklin Pierce School District serves 73% students of color. Ample research shows students of color have better academic outcomes when taught by teachers who look like them. Yet 80% of TPS teachers are white, and 74% of FPS teachers are white.
"We are thrilled to embark on a transformative partnership with the Franklin Pierce School District through our Seed Teachers program," said Marquise Dixon, CEO of Degrees of Change. 
"This collaboration represents a shared commitment to nurturing educators who will inspire and shape the future. Together, we aspire to cultivate a thriving learning environment for students, fostering growth and empowerment in every classroom," concluded Dixon.
 Key highlights of the Seed Teachers program include:
Scholarships:

Scholars receive an exceptional scholarship package at Pacific Lutheran University that meets their total financial need with no more than $5,000 in loans yearly.

Supportive Cohort:

Scholars benefit from a supportive cohort experience, creating a network of like-minded individuals dedicated to positively impacting education.

Extensive Mentoring:

The program offers extensive mentoring, ensuring that future educators receive the guidance and support needed for their professional growth and success.

Paid Work Experience:

Scholars will gain valuable hands-on experience through paid work opportunities at their school district throughout their college tenure, enriching their practical understanding of the education system.
"The addition of Franklin Pierce School District to the Seed Teacher program means we will have an even greater impact on the current teacher workforce," remarked Mary Jo Larsen, assistant dean of education at PLU. 
"We look forward to welcoming the newest cohort to campus, offering them transformative field experiences, and upholding our dedication to excellence in professional and liberal arts education, inspiring a journey of growth and accomplishment in education," concluded Larsen.
For additional information about the Seed Teachers program, please visit seedteachers.org. Watch videos of the first Seed Teachers scholars on YouTube.
About Franklin Pierce School District
Franklin Pierce School District was established in 1949 and has a history of forward-thinking that ensures student success is our #1 priority. Our 1,000 employees proudly serve nearly 8,000 students from preschool to grade 12 in various settings, including an early learning center, eight elementary, two middle schools, two traditional high schools, and one alternative high school. Over 65 of our teachers are National Board Certified, 65 percent hold a master's degree or higher, and two of our principals were recently recognized as principals of the year. 
About Degrees of Change
Degrees of Change prepares diverse, homegrown leaders to succeed in college and career to build vibrant and equitable communities through three innovative programs: Act Six, Seed Internships and Seed Teachers. The organization partners with community organizations, high schools, colleges and employers to provide cohort-based leadership training, college success support and career development programming to underrepresented students and graduates. Based in Tacoma, Degrees of Change is a national organization that serves students across the Pacific Northwest and Midwest. Of the students served, 90% are students of color, 70% are first-generation college students, and 80% are from low-income families. 
About Pacific Lutheran University
Established in 1890, PLU purposefully integrates the liberal arts, professional studies, and civic engagement in the Pacific Northwest. PLU's mission is to educate students for lives of thoughtful inquiry, service, leadership and care — for other people, their communities, and the earth. Offering distinctive opportunities for global engagement, collaborative student-faculty research, and purposeful learning, PLU guides 2,700 students to discern their vocation through a challenging academic experience, a culture of service and leadership, and a community of care.
---
For Media Inquiries, Please Contact: Sharon Ho Chang, Communications Director, Degrees of Change
Featured image: Three members of the first Seed Teachers cadre on campus at PLU, fall 2023. (Photo by Ron Storer)