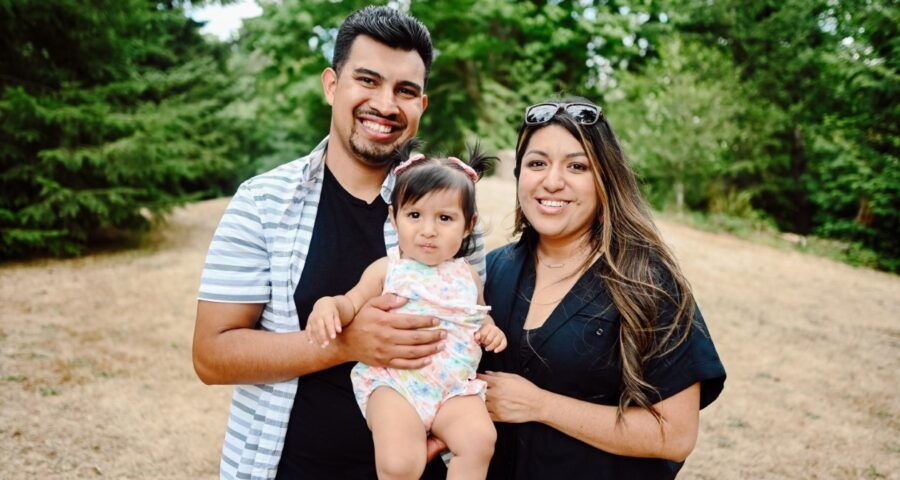 At Degrees of Change, 39 percent of the scholars served by our Act Six program are Latinx. Mid-September marks the start of National Hispanic Heritage Month. We believe it is important to celebrate the Latinx community year round. We also appreciate this special time as a reminder to keep commemorating diverse Latinx people and their many contributions to U.S. society.
Gustavo is a mechanical engineer and Act Six graduate who attended George Fox University in Oregon. He agreed it is nice to have a set time to uplift the Latinx community even more:
"We can really highlight the work that's been happening in our communities and celebrate it; let the next generation know that there's no shame in your culture, roots, language, and traditions … That's why I find the beauty in having this set time for that."
Gustavo is married to his high school sweetheart, Alma, who is also an Act Six graduate from George Fox University. The couple grew up in Woodburn, Oregon, a predominantly Latinx community of immigrants and migrant farmworkers. Though they left Woodburn to earn advanced degrees, Gustavo and Alma eventually returned to start their own family. 
"It was never a question," Alma said. "We knew this is where we wanted to raise our family. This is home to us and not only home, but we're also very committed to community."
Let the next generation know that there's no shame in your culture, roots, language, and traditions.
Migrant workers settled in Woodburn because of the agriculture work available in the Willamette Valley, like Gustavo's and Alma's parents, who are from Mexico. "If you come to Woodburn, you'll notice that downtown resembles a lot of Mexican towns," Gustavo said.
"We have a plaza and kiosko and we have palm trees and a fountain and all the shops [are] Spanish-speaking … We grew up around all of that, so it was easy to retain our Spanish, which we mostly spoke at home, and we picked up English at school."
Growing up, Gustavo's parents reinforced education so he always wanted to go to college. "I knew I wanted to pursue an education … it was more like; how can I get there?" Gustavo said. Meanwhile, Alma grew up in a big family. Her sisters were teen parents who started families early. Alma chose to focus on school. "That was kind of my out in a lot of ways," she said.
But in Woodburn, high school graduation rates were not very high. "So it was really important for us to be able to not only graduate, but go on to college," Alma said. "It was a big goal of ours to meet." 
Gustavo and Alma both applied and were selected for the Act Six scholarship and leadership training program. They went to George Fox University together as part of Cadre 3. 
Alma and Gustavo describe going to George Fox as "culture shock" at the time. "It was really hard to adjust to a predominantly white institution," Alma said. "I think I cried a couple of nights actually, just wanted to come back home." But she realized there was no way she wouldn't complete her degree, especially given the support of her family, mentors, and the Act Six community.
The couple were grateful to have each other through their college experience. They spent most of their time together and took classes together when they could. "That's kind of how we got through it," said Gustavo.
Alma and Gustavo graduated in 2013. Both finished their degrees in four years. Alma graduated with a bachelor's of Science in Elementary Education and Gustavo graduated with a bachelor's of Science in Civil Engineering. 
"It was a big milestone," Gustavo said.
"I know that for our families it also meant a lot," said Alma. 
The high school sweethearts got married the summer after they graduated. 
Alma and Gustavo both went on to earn their master's degrees. Gustavo was accepted at Stanford University, a long-time dream. The couple moved to California for two years where Gustavo earned a Master's of Science in Civil and Environmental Engineering. While he studied, Alma taught at a nearby school district.
Following California, the couple moved back to Oregon. For two summers, they ran a program in their hometown to help local high school students apply to college. They invited other Act Six graduates to be involved and called it ReNew. "We really wanted to mimic some of those things that helped us with access and in college," Alma said. "In a lot of ways we've been trying to give back to the community."
In 2018, the couple moved to Seattle so Alma could attend graduate school at the University of Washington. She earned a Master's of Education in Curriculum and Instruction in 2020 and shortly thereafter their first child was born.
The couple are now raising their 2-year-old daughter, Esperanza, at home in Woodburn. Gustavo works as a lead mechanical engineer for PAE, a Portland-based engineering firm that focuses on designing sustainable buildings. He serves on the directors' boards of George Fox University and The Contingent, and recently joined the Woodburn School District Board. He is also involved with Room For More, an open collective of diverse professionals in the fields of architecture, engineering and construction (AEC). The group focuses on promoting diversity and inclusion in the AEC industry. 
Alma is a third grade teacher in Woodburn. For her, serving a Latinx community or a community with majority students of color is really important. "Actually right now, we're seeing a big group of recently migrated students from Central America," Alma said. "So I think it's really important for me to sustain their culture and their language and, for them, their indigenous language. I do a lot of that work in the classroom. It's where I see my service coming through a lot more."
Today, nearly 20 percent of college undergraduates in the U.S. are Latinx. 
"If I could go back, I think I would want to express my culture and languages even more in certain spaces that maybe I felt I couldn't," Gustavo said. "It's important for you to know that you are worthy of being in [college]."
Alma agreed. "Over time, I just learned that it's really important to really show up as yourself, whether you're doing that culturally or linguistically," she said. "And now, having a child, I think it's important for us too to be able to show her to just be proud of her heritage and her culture and her languages. Because it's important and not only in our community—but outside of our community."
---
Featured image: Act Six graduates Gustavo and Alma with their daughter, Esperanza. (Photo courtesy of Gustavo)