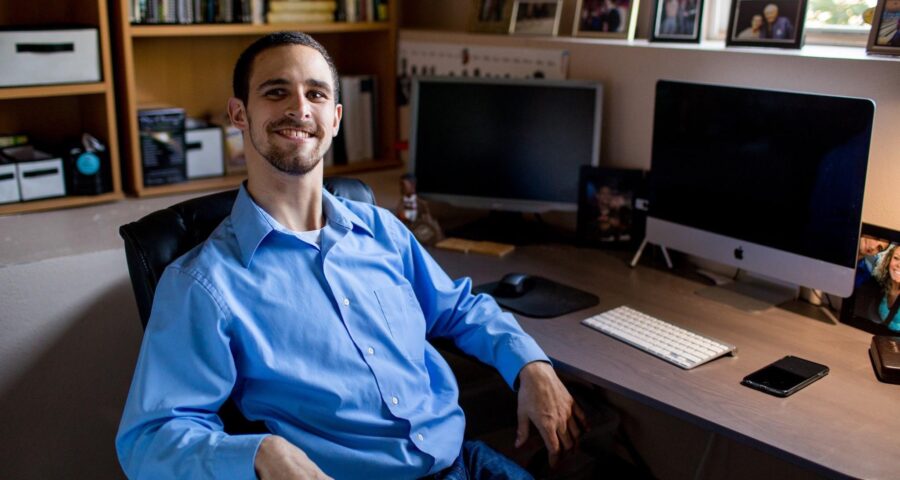 Blake Shelley, Act Six alum, is a lot of cool things. He is the author of three books, a motivational speaker, and a life coach. He is a TikTok and Instagram influencer. He also lives with Cerebral Palsy (CP), a group of movement disorders appearing in early childhood that affect a person's motor abilities.
Blake was diagnosed with CP at 6-months-old due to a lack of oxygen at birth. Living with CP means everyday tasks such as eating, walking, and typing are extremely difficult. But, reads his website, CP has also taught him how to persevere without being defined by a disability.
"What I tell everybody is we all have challenges," Blake said in an interview. "Some of us just have more visible challenges."
Blake was raised on the Eastside of Portland in a suburban area. Despite growing up with a lot of setbacks caused by CP, Blake said he still had a pretty normal childhood because of loving family and a caring community. "I had a really stable support team that allowed me to achieve and reach my goals and helped me believe in myself."
We all have challenges. Some of us just have more visible challenges.
In high school, Blake discovered another source of strength after becoming serious about his faith. He began regularly attending youth group at his church and Young Life, an international Christian ministry that reaches out to students across the U.S. The added support from Young Life, church, and a solid group of friends led him to new confidence and to try new things.
"A couple of my friends were in the first Act Six George Fox cadre. I went to community college for a couple of years and decided I wanted to go to George Fox [too]. So, all of the people I knew in the first cadre encouraged me to apply."
Blake was selected for Act Six George Fox Cadre 3. "College was great," he said. "George Fox is a small, community-oriented school. All of my professors were on a first-name basis. It was a very welcoming environment." Blake lived in a house with nine other people, four of whom were also Act Six scholars. In 2012, he earned a bachelor's degree in Christian Ministries with an emphasis in Youth Ministry.
After graduating, Blake was hired by Young Life as the director of Capernaum in Portland, doing ministry for kids with disabilities, and as a regional training specialist. He was with Young Life for over a decade.
"During that time that I was director for Capernaum I had a mentor who saw my potential and thought a lot of people could learn from my story. At first, I didn't really believe him. I was like, what could they learn from a disabled guy that is only two years out of college? Eventually, I chose to listen to his advice … and that was when I decided to write my book 'Breaking Chains.'"
From 2017 to 2018, Blake published three books: "Breaking Chains: The 6 Links of Turning Bondage into Tools of Freedom"; a companion journal entitled "Breaking Chains: The Freedom Journal"; and "99 Motivational Quotes to Breaking Your Chains" taken from his first publication.
"Breaking Chains" is about overcoming challenges, setting goals, and becoming the people we were created to be. Though he writes by telling his own story, Blake said, the principles can be applied to any challenge.
"Prior to the pandemic, I was trying to grow my business as a motivational speaker, and I never wanted to be a writer. With my disability, writing is very taxing for me … My goal was to write a book as proof of what I talk about so that I could go out and speak to groups … And then the whole world shut down."
During the height of the pandemic, Blake decided to try TikTok instead because he knew the platform could reach a lot of people. He posted his first TikTok video in July 2021. By September, he had 50,000 followers. "It blew up," he said. Blake began posting and livestreaming a lot, talking about his book and how to overcome challenges. Now, he has over 296,000 followers.
"People started referring to me as their coach, and I thought to myself, if people are referring to me as a coach, I better get some formal training," he said. So, last year, Blake became a certified life coach through the Center for Christian Coaching, an ICF-accredited program.
Today, Blake continues to live in the greater Portland area. He is passionate about helping others improve their quality of life, especially people impacted by disabilities. In addition to being an individualized life coach, he promotes disability awareness in public schools, through mentorship and advocacy, and by educating through speaking engagements. He is also the founder of the Breaking Chains Foundation, which provides motivational resources and coaching services to underserved demographics.
People who live with disabilities have a lot to offer, Blake said. Plus, keeping an open mind is an important overall principle of his coaching work. "I would encourage you all to build a relationship with people with disabilities or people who are different from you, because you can learn a lot."
---
Written by Sharon Ho Chang, Communications Director, Degrees of Change
Featured image: Blake Shelley sitting at his desk. (Photo courtesy of Blake Shelley)

Sign up for our newsletter to learn more, including updates and ways to get involved.