IT TAKES A VILLAGE
We envision a comprehensive, coordinated, community-wide system of support for all Tacoma Public Schools college-goers as they complete their degrees and find meaningful careers.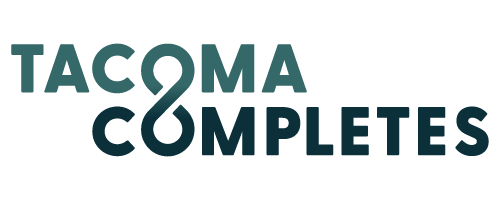 WE WON'T SETTLE
Graduation rates for Tacoma's high school students have increased dramatically over the past decade. However, finishing high school is just the start of a pathway to success. During that same period, college going decreased, and of the roughly half of Tacoma's graduating high school seniors who go on to a  two- or four-year college, less than 60% receive a degree of any kind within six years.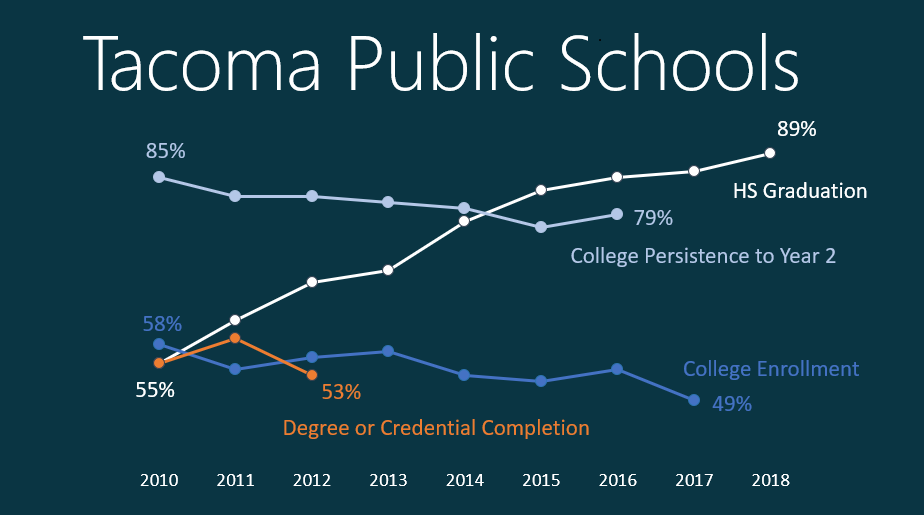 The Tacoma Completes initiative is a coordinated, city-wide effort to foster a more diverse, vibrant, educated workforce by helping Tacoma Public School students seeking a post-secondary education to complete their degrees.
Our hope in all of this is to lift opportunities that no institution or agency can tackle alone.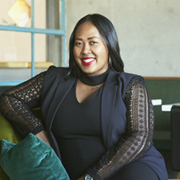 Tafona Ervin, Ed.D.
Executive Director
Foundation for Tacoma Students
Serving a richly diverse, unique community requires an innovative, cross-sector approach
We understand that academic institutions do not bear sole responsibility for a student's success. It takes a village. By identifying socioeconomic and cultural barriers and taking decisive, collective action, Tacoma Completes is building a community-wide strategy to lead students to college completion, and, ultimately, economic mobility.
Spearheaded by Degrees of Change, Tacoma Completes is an important partner in the Graduate Tacoma movement. Initially, this work is focused on Tacoma Community College and University of Washington Tacoma, where more than 40% of Tacoma Public Schools college-goers attend.
Data-driven and research-informed
Our work is informed and motivated by disaggregated data on college enrollment and completion. Our partners at Graduate Tacoma publish interactive dashboards that show historic rates for key cradle-to-career indicators, including postsecondary enrollment and completion.
Tacoma Completes both uses and contributes to the latest research about student persistence and completion. Two important local studies help the community more deeply understand Tacoma's postsecondary landscape and experiences of Tacoma students.
Why Do Students Leave College? Student Voice Research Report (Degrees of Change, 2020)
Degrees of Change researchers analyzed qualitative data gathered from interviews with 53 students who recently left TCC or UW Tacoma in good academic standing.  Often a missing piece in the research literature, the voices of students provide valuable insight into the array of barriers that students encountered that led to them leaving college.  The report highlights 'meta-themes' from student stories, including financial and basic needs, family care and life events, mental health, and more.  Robust analyses is followed by strategic questions for stakeholders as they consider what could be done to better support student success. Read the executive summary or full report.
Tacoma Completes Environmental Scan (BERK Consulting, 2019)
Commissioned by Tacoma Completes, BERK engaged with a wide range of stakeholders across Tacoma to summarize important outcomes, barriers and resources available for Tacoma college students. Read the full report.