Degrees Of Change
Celebrate Emerging Leaders + 20th Anniversary Convention
August 4-7, 2022 • Tacoma, WA
On their college campuses, in their home communities and the world beyond, Act Six scholars and graduates have been creating a legacy of distinguished leadership, service and academic achievement since 2002. Join us in-person this summer to celebrate the leadership and impact of more than 1,350 Act Six scholars over two decades.
Listen in to this personal invitation from Christian Paige. Poet, speaker, educator, Christian is an Act Six graduate, Emmy-nominated author and performer of "Trees" and keynote speaker at this summer's convention and Celebrate Emerging Leaders Fundraiser.

The kick-off event and fundraiser will bring together the following groups to celebrate this milestone:

Local community members and Degrees of Change/Act Six supporters. The broader community of Act Six supporters are invited to join the celebration banquet on Thursday evening, where they will have the opportunity to financially invest in the continuing impact of Act Six.
Current Act Six scholars. Current scholars are invited to the 20th Anniversary celebration banquet Thursday evening and the following three-day in-person convention experience through Sunday morning. The kick-off celebration and fundraiser is included in registration for the convention. The convention resumes the pre-pandemic Act Six rhythm of gathering the network by region every other year. Act Six Scholars, please register here.
Act Six graduates. Graduates who are ready to invest financially in the future of Degrees of Change and Act Six are invited to the celebration banquet and fundraiser Thursday evening. While there is not a special track for graduates through the convention, those wishing to attend the other convention session alongside current scholars are invited to do so. For more information on joining the other portions of the convention and a family friendly event for graduates on Friday, August 5, visit here.
Act Six affiliate staff. All Act Six affiliate staff are invited to join the network staff meeting and celebration banquet on Thursday, and accompany their scholars through the full convention experience through Saturday.
Partner college staff. Act Six partner college staff in student life and admissions are invited to join the network staff meeting Thursday morning. Campus leaders are invited to join the celebration banquet Thursday evening. Campus staff who support scholars are invited to accompany their scholars through the full convention experience through Sunday.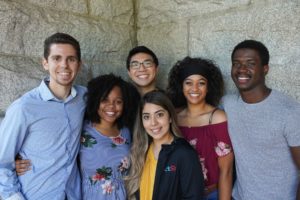 Join us to celebrate and support Degrees of Change and 20 years of changemakers and community leaders through the Act Six program. This year's special event will be held at the Marriott Hotel in Tacoma, Washington for the in-person event with limited seating on August 4, 2022 from 6:00-8:00 p.m.
With our largest goal yet, help us raise $180,000 for college completion and career development programming that cultivates diverse young adult leaders for our community. More than just a fundraiser, the event is a place where the community rallies together to lift our incredible scholars and interns.
Thursday, August 4, 2022
6:00 p.m. Social
6:30 p.m. Program and Dinner
Marriott Hotel
1538 Commerce Street, Tacoma, WA
Seating is extremely limited so be sure to register to attend our in-person event!